Avansim's award winning simulation systems are designed, created and delivered in-house by a multi-talented team. With offices in Milton Keynes, serving the UK, Asia and North America, and in Munich, serving Europe, Africa and the Middle East, Avansim continues to grow rapidly.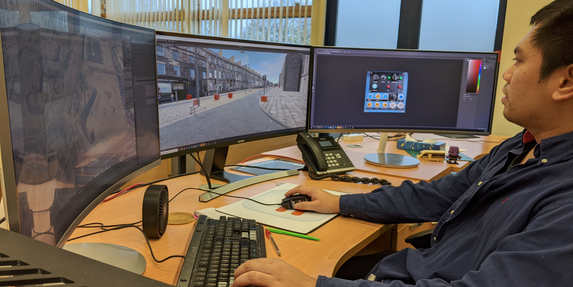 Originally founded in 2010 by Human Factors experts, Ian Rowe Associates, (the original creator of Tram-Pro, the world's first specialist light rail training software), Avansim has continued to develop an ever-expanding suite of sophisticated simulator software and hardware to serve the rapidly growing international rail industry.
Technologically advanced programming and detailed virtual reality modelling mimic the bustling complexity of city centres. Safety systems and a comprehensive range of signalling for networks as small as 6kms, and as large as 250kms are faithfully recreated.
User-friendly software runs smoothly on a wide range of hardware designed according to client training needs or individual specifications. Full cab systems are tailored to represent every detail of a full sized, fully functioning cab interior. Using multiple compact virtual, desk-based simulators, or even commercial off-the-shelf laptops, numerous trainees can be overseen by one single Instructor.
Avansim has also developed an innovative suite of tools essential for new and expanding networks. User controlled virtual-reality Engagement Software involves stakeholders before and during the construction phase, Controller Training Software is capable of real-time rendering entire networks with scheduled AI rail vehicles and simulated CCTV, Hazard Awareness Software improves and monitors driver safety, and E-Learning Software accommodates remote driver training and fault finding on hardware as small as a mobile phone. In over a decade of development, Avansim has produced systems for clients in Germany, Spain, Ireland, Indonesia and the UK and continues to expand globally as demand grows for safety and training in heavy rail electrification and light rail systems. Greener technologies are increasingly being adopted worldwide by environmentally conscious countries as part of their journey to zero carbon emissions and, with our record of delivering cost effective eco solutions, Avansim is always ready for the next challenge.
UK'S LARGEST TRAM NETWORK BENEFIT FROM THE AVANSIM SIMULATION SYSTEM
Keolis Amey Metrolink (KAM), operators of the Manchester tram system, continues to benefit from their recently installed Avansim T1 Compact Cab Simulator which has played a significant role in their successful redesigned driver training course. Developed to achieve maximum quality and efficiency with the use of accurate simulation hardware, advanced artificially intelligence and geo-specific environment from Bury-Altrincham, the Avansim simulation system represents a state-of-the-art training tool.
Anna Barraud, Kam's Training Manager stated:
"The Avansim simulator has revolutionised the way we train drivers in Manchester. As well as training competencies for new and existing drivers, we are now starting to use the simulator for testing basic competencies during new driver recruitment. This process will improve the quality of our recruitment by helping us identify candidates with the right core abilities."
Metrolink has recognised the advantages of Avansim systems since 2012 when, using Avansim's Tram-Pro simulators, their team of 120 drivers learnt the new routes ahead of the completion of the largest expansion programme in the UK
VGF CONTINUE TO INVEST IN SIMULATION
VGF, the owner and operator of Frankfurt's Trams, Underground and Buses continue to expand their tram simulator system. Avansim have recently delivered new simulator hardware and route upgrades for the tram system to now include Line 14 and Line 17. This enables additional operational scenario simulation at the line termini at Stadion and Rebstokbad.
Herr D., VGF Driver Trainer and simulator training specialist commented:
"Adding the new track sections, and in particular, the terminus arrangements have enabled us to provide high quality and efficient training for operations that are virtually impossible to train using traditional methods."
Avansim have supplied VGF's training suite with five dual vehicle T2 Simulator Workstations and an Instructor Workstation enabling driver training for both the Tram and U-Bahn Metro system on multi-function simulators.
MIDLAND METRO INCREASE THEIR SIMULATOR FLEET
AVANSIM are pleased to be working with Midland Metro again to deliver a compact cab simulator replica of the newly delivered CAF Urbos Generation 3 vehicles for Birmingham's expanding network. This highly detailed compact replica will join the fleet of Tram-Pro desk-top simulators that trained Midland Metro's drivers on the Birmingham Cross City Extension before it was completed and continues to add significant value to ongoing training.
The new, much larger, simulator will allow drivers to become familiar with the differences between the current CAF Urbos fleet and the new third generation vehicles. AVANSIM will include sophisticated software to allow drivers to switch between the two vehicles control and management systems to enable easy and efficient transition training for drivers.